Meet Laura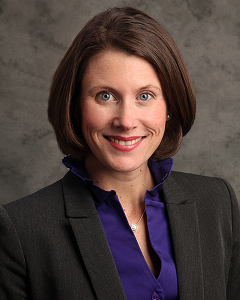 Let's work together to create a financial plan for your life now, into retirement.
As a Wells Fargo Financial Advisor, my purpose is to help clients focus on their life goals and live their best life, while maintaining financial success.
Money is a hard topic to talk about for most people, so I make it my personal goal to help ease anxieties about starting the conversation and building a stable plan.
Each individual has varying opinions about how their money should be spent, so I constantly ask myself two questions:
-How can I make this easy for my client? 
-What goals are attainable and how can we work together to see them come to fruition?
I work with individuals at every stage of life, from those starting their career to retirees.  I'm sensitive to the busy professionals who want to make smart financial decisions in a time efficient manner. But I'm also attentive to the needs of retirees who are working to preserve their estate.
I work every day to keep lines of communication open between me, my client and the others involved in the investment plan.  Working with Wells Fargo, you're able to receive well-rounded counsel for your financial future. Together we are able to give well-rounded counsel for your future.
In my free time, you will find me running local 5K races, eating at new "foodie locations", cooking, and entertaining with my husband, Todd and tuxedo cat, Miss Herbie.
I hold the Series 7, Series 66 registration. I hold insurance licenses for life, health, and variable annuity products.
Want to meet with me in person and talk about your financial goals? Contact me today: 270-444-8084, laura.duff@wellsfargoadvisors.com